Just wanted to say Happy Thanksgiving to all of our readers out there. Hope you and your families have a safe and happy holiday. And also, will be praying for a Dallas Cowboy victory.
One last thing…
Heard a story recently about some parents who took exception to the religious aspects of a little play known as, A Charlie Brown Christmas. The Christmas special has long been a favorite play for kids, as well as an animated TV special aired around this time of year.
The following is a message provided by one atheist group regarding a school trip to see the play:
"While everyone loves Charlie Brown, the religious content of the program is a problem, as is the trip to a church to see it," wrote (Anne) Orsi on the group's Facebook page. "Oddly enough, not all kids at the school are Christian, and their parents don't want them singled out as 'different.' Who'd a thunk it?"
While the irony is almost certainly lost on people that complain about such religious events – that they take exception to others forcing their religion upon them, and fight back by forcing their non-religion on those same people – I'd like to take the time to recognize this particular atheist organization trying to rain on everybody else's parade this holiday season.
So atheists, I present to you the easily most offensive portion of A Charlie Brown Christmas in your eyes – Linus, quoting scripture in an attempt to quantify the true meaning of Christmas.
Go ahead atheists. Watch that video clip. Print out this page. Roll up the paper. And shove it directly up … Alright, deep breath.
Seriously though, stop pissing on everybody else's good time just because you have a shallow sense of self-worth and have to validate your own existence by bringing others down.
Happy Thanksgiving … except for you losers!
I'm sure this wasn't a horrifying experience for the girl. But at least the TSA agent had every reason to start a pat down. After all, the girl surely looked suspicious, what with being all of 17, wearing a strapless sundress that could have easily concealed an explosive, and of course getting on a plane with her church group. Eye roll please.
The TSA just gets worse and worse.

Scott MacFarlane of Cox Media reports that a TSA agent exposed a 17-year-old girl's breasts during a pat-down at LAX. The girl is said to be the grandniece of Texas Rep. Ralph Hall.
But the agent wasn't fired. Why? Because the TSA said it was, like, totally an "accident."

Sure, because it's super easy to accidentally expose a young woman's breasts to the public during a routine pat-down. Sounds a lot like sexual abuse to us.

Since LAX is in Rep. Maxine Waters' district, Hall asked her to submit a complaint to the TSA.
The officer "apologized." Really. A TSA agent slipped a teenage girl's dress off and "accidentally" exposed her breasts and is forced to … apologize? Let's hear it for union contracts!
Twitchy offers images of the complaint in which the TSA actually blames the fact that the girl was wearing a loose-fitting dress. Here is an example….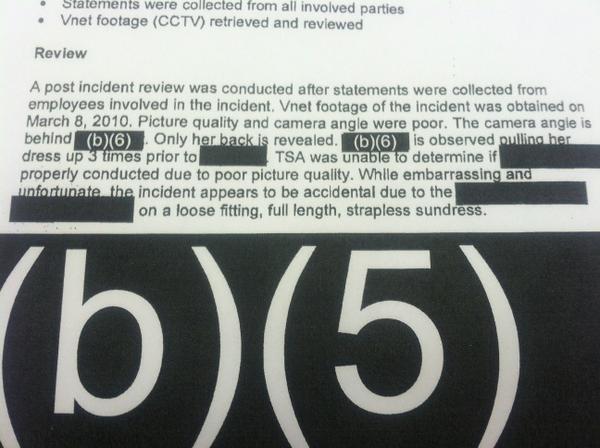 Here's the thing – If you aren't groping people, their dress won't 'accidentally' fall off.
Um… er…
I'm at a loss. Any ideas on why Bob Beckel, co-host of The Five, would explain away nudists by assuming they "were gang-banged" or "had sexual assault on them" as children?
Beckel usually let's fly with some real winners when he starts shooting from the hip. It does get him into some embarrassing situations. For instance, this episode where he had the cast and crew in stitches trying to come up with the past tense for the word 'tweet'. For those not willing to click on the link, the word rhymed with 'swat'.
Anyway, here it is via Mediaite:
During a Fox News segment on the ongoing fight over whether nudists should be allowed to walk the streets of San Francisco, The Five co-host Bob Beckel gave a rather colorful explanation for why people become nudists in their adult life.

The remarks came after co-host Dana Perino asked the table: "What happened to these people as children that they don't want to wear any clothes?"

Andrea Tantaros said the nudists are "desperate for attention."

"Most of them were gang banged probably," Beckel chimed in. The two-shot camera showed Perino wincing in shock.

"I don't know," he continued over his co-hosts' laughter and disbelief. "They could have had sexual assault on them?"

The camera stayed on him, as his co-hosts remained silent, and an irritated Beckel seemingly pushed back against the producers talking to him from the control room…
Here's the video…