It was just
a few days ago
that President Obama told a Pennsylvania crowd that he already missed being on the campaign trail. And with that, his campaign, Obama for America, is trying their best to recreate the election process for him, even going so far as to
continue fundraising efforts.
Colin Campbell at Politicker writes:
In what he called "my last election," President Barack Obama scored a hard-fought but comfortable victory over Mitt Romney last month, but that doesn't mean his email list will no longer be hit up for campaign cash. To wit, Mr. Obama's electoral operation, Obama for America, is asking their supporters to contribute after filling out a form backing his plan to increase taxes on the wealthiest Americans.
"Thanks for sharing your story. The next chapter begins today. Stand with President Obama for the next four years," a subsequent contribution form declares. Suggested donation amounts range from $15 to $1,000 and a picture of Mr. Obama is presented with the text, "Stand with me, work with me, let's finish what we've started."
Howard Portnoy
at the Examiner wonders exactly what OFA and their campaign manager, Jim Messina, plan on doing with the post-election donations.
What the president's short- or long-term objective might be is a less pressing question than the one pertaining to the legality of his fund-raising appeal. The article quotes former (current?) campaign manager, Jim Messina, as publicly signaling that the Obama for America website will continue to exist. There is no problem there. Campaign finance laws, however, are pretty specific and straightforward about the duration of campaign fund-raising. To wit, it ends with the election.
Messina seems to acknowledge this:
"What's true is just from FEC [Federal Election Commission] law, the campaign needs to shut down. We cannot expend funds for non-presidential activities. So we have got to figure out what we do next. That's a conversation we're having with our supporters now."
It is presumably with a wink that he added, "I think anything's possible."
In briefly reading up on campaign finance laws, it appears the Obama campaign can actually use those contributions for a short period to donate to other campaigns. Limitations appear to be set at $2,000 per candidate. So for all his #My2K talk, the President's campaign manager seems to think that $2,000 means more political contributions for their cronies.
Can somebody tell me better regarding the campaign finance laws? How long after an election can a campaign continue to solicit contributions? Everything I've read talks about money in the coffers, but doesn't mention soliciting for donations after one's final election.
What's worse is, this creepy fella right here made the video public for the first time…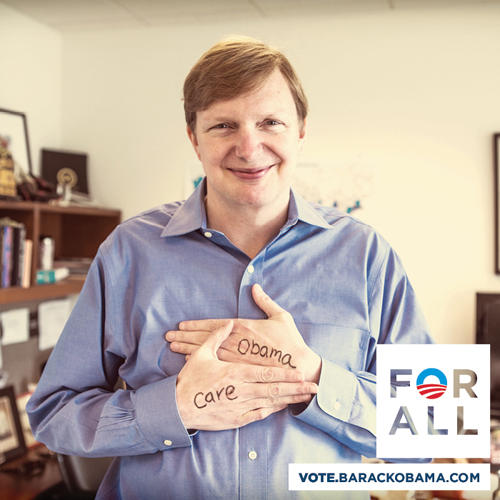 Now if you'll excuse me, I have to go bleach my eyes.
In the meantime, enjoy this heavily innuendoed video from your Obama campaign.
The Obama campaign has put out an official video targeting young adults that compares voting to having sex for the first time. There really are not words to describe the ad, but it gels with the Obama campaign theme that this year's election is all about sex, birth control and abortion.

In a creepy manner, Jim Messina, Campaign Manager, Obama for America, tweeted the video — making it public for the first time.

"Your first time voting is important. Trust @lenadunham—you are ready," he said.

Dunham, something of a vulgar performance artist, tweets out gems like this one: "My biggest sexual fantasy is that someone busts in when I'm singing in the shower and yells "girl, where you been hiding that voice?"
Yes, because voting for the narcissist-in-chief equates to a sexual experience.
Word of advice libs – if voting for Obama is like having sex … you're doing it wrong!