I'm sure this wasn't a horrifying experience for the girl. But at least the TSA agent had every reason to start a pat down. After all, the girl surely looked suspicious, what with being all of 17, wearing a strapless sundress that could have easily concealed an explosive, and of course getting on a plane with her church group. Eye roll please.
The TSA just gets worse and worse.

Scott MacFarlane of Cox Media reports that a TSA agent exposed a 17-year-old girl's breasts during a pat-down at LAX. The girl is said to be the grandniece of Texas Rep. Ralph Hall.
But the agent wasn't fired. Why? Because the TSA said it was, like, totally an "accident."

Sure, because it's super easy to accidentally expose a young woman's breasts to the public during a routine pat-down. Sounds a lot like sexual abuse to us.

Since LAX is in Rep. Maxine Waters' district, Hall asked her to submit a complaint to the TSA.
The officer "apologized." Really. A TSA agent slipped a teenage girl's dress off and "accidentally" exposed her breasts and is forced to … apologize? Let's hear it for union contracts!
Twitchy offers images of the complaint in which the TSA actually blames the fact that the girl was wearing a loose-fitting dress. Here is an example….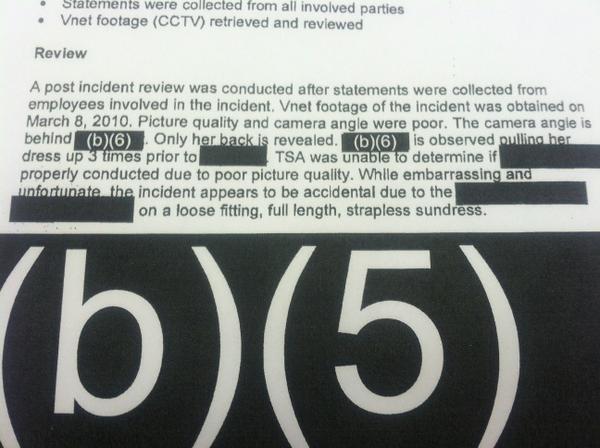 Here's the thing – If you aren't groping people, their dress won't 'accidentally' fall off.