I'm sure this wasn't a horrifying experience for the girl. But at least the TSA agent had every reason to start a pat down. After all, the girl surely looked suspicious, what with being all of 17, wearing a strapless sundress that could have easily concealed an explosive, and of course getting on a plane with her church group. Eye roll please.
The TSA just gets worse and worse.

Scott MacFarlane of Cox Media reports that a TSA agent exposed a 17-year-old girl's breasts during a pat-down at LAX. The girl is said to be the grandniece of Texas Rep. Ralph Hall.
But the agent wasn't fired. Why? Because the TSA said it was, like, totally an "accident."

Sure, because it's super easy to accidentally expose a young woman's breasts to the public during a routine pat-down. Sounds a lot like sexual abuse to us.

Since LAX is in Rep. Maxine Waters' district, Hall asked her to submit a complaint to the TSA.
The officer "apologized." Really. A TSA agent slipped a teenage girl's dress off and "accidentally" exposed her breasts and is forced to … apologize? Let's hear it for union contracts!
Twitchy offers images of the complaint in which the TSA actually blames the fact that the girl was wearing a loose-fitting dress. Here is an example….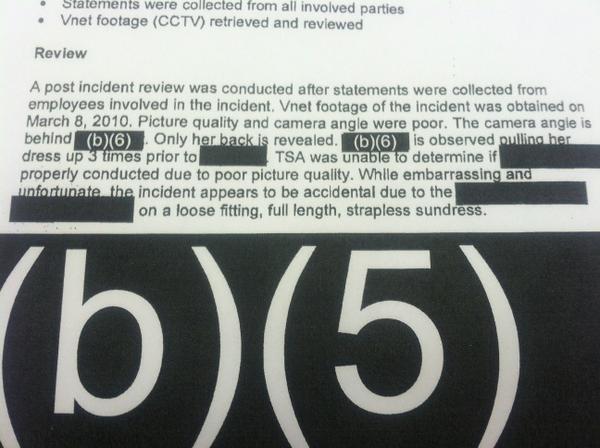 Here's the thing – If you aren't groping people, their dress won't 'accidentally' fall off.
And by lone wolf, we mean somebody fully integrated into the radical Islamic religion, may carry a business card stating that he/she is a 'Soldier of Allah', and has continual correspondence with high-ranking overseas members of the Taliban. Like that other famous 'lone wolf' Major Nidal Malik Hasan. The important thing to remember here is that it will have nothing to do with radical Muslims. Nothing.
Via the New York Post:
Just days before the one-year anniversary of Osama bin Laden's death, US authorities are warning that while there is no specific, credible threat to the US homeland they remain concerned "lone wolf" terrorists could use the date to avenge the former al Qaeda leader.
In an intelligence bulletin issued late Wednesday, the FBI, Department of Homeland Security and US Northern Command note that terrorist groups such as al Shabaab in Somalia, northern Africa's al Qaeda in the Islamic Maghreb and the Pakistani Taliban have called for revenge against the United States for killing bin Laden during the May 1, 2011 raid on his hideout in Pakistan.

The bulletin says al Qaeda or its affiliates would view an attack "on this anniversary as a symbolic victory," especially in the wake of losses suffered by al Qaeda through US drone attacks and other efforts overseas.

In addition, according to the bulletin, authorities remain concerned that so-called "lone wolf" extremists not already identified "will execute attacks with little or no warning on or about the anniversary of bin Laden's death."
Meanwhile, the TSA is doing everything in their power to hunt down these lone wolf suspects, issuing bulletins for citizens to be on the lookout for these extremists:
In related news, had this happened to a suspicious looking person who fit the profile of a radical terrorist, CAIR, the ACLU, Al Sharpton, and Jesse Jackson, would all be demanding that the TSA agents be fired.
But including four-year-olds in intense security screenings just to prove political correctness is perfectly acceptable.
This story is disgraceful on so many levels…
Via the Daily Mail:
Of all the many complaints about airport security and the TSA, one of the most common is that they make little distinction between plausible security threats and passengers unlikely to be doing anything wrong.
And a recent incident in Wichita, Kansas has reinforced that argument, as a four-year-old girl was apparently subjected to a humiliating ordeal after she hugged her grandmother while she was waiting in line.
The girl was accused of having a gun and declared a 'high security threat', while agents threatened to shut down the whole airport if she could not be calmed down.
When asked about the overbearing treatment the girl received, a TSA spokesman did not apologise and insisted that correct procedures had been followed.
A description of the incident provides no further comfort for those wondering if this is being blown out of proportion.
Apparently the family's grandmother had triggered an alarm on the airport security system. She was subsequently held back, and in the confusion the little girl ran back to give the grandmother a hug.
That's when things got a little crazy, with TSA agents accusing the grandmother of passing a gun to the child, then proceeded to take their anger out on that child.
In her terror, Isabella tried to run away rather than face a full body pat-down, which unsurprisingly enraged the TSA officers further.
One officer even told the girl's mother that the airport would have to be shut down and every flight cancelled if the four-year-old did not co-operate.
They also apparently described the little girl as a 'high security threat'.
As Isabella was taken into a side room for a pat-down, accompanied by her mother, she could not stop crying and refused to let the agents touch her.
An officer repeatedly said she had 'seen a gun in a teddy bear' in the past, in an apparent attempt to justify the situation.
Ms Brademeyer continued: 'The TSO loomed over my daughter, with an angry grimace on her face, and ordered her to stop crying.
'When my scared child could not do so, two TSOs called for backup saying, "The suspect is not cooperating." The suspect, of course, being a frightened child. They treated my daughter no better than if she had been a terrorist.'
And yet, treating a possible terrorist as a terrorist would be branded bigoted or Islamophobic.